The beaches
If you prefer the sand to the rocks, you have only to choose.
The large beach is ideal for children, who can run and play in the water or go and explore the pond behind, where herons and egrets rests. To get there, 50 steps from home are enough!
During the months of July and August a pedal boat rental service is made available.

But if you want something more private and particular …
here is the white beach, a pearl among granites of all shapes.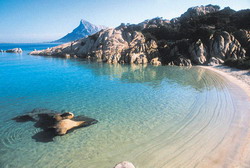 Or admire the famous Turtle Creek, a rock that resembled this animal and that was  partially destroyed by a vandal years ago.
At 10-minute drive there is Cala Brandinchi, divided by a small pine wood from the famous beaches of Impostu Lu and La Cinta. Practically a succession of long white beaches for almost 5 km!